Five Facts about Toric: Intra-Ocular Lenses in Cataract Surgery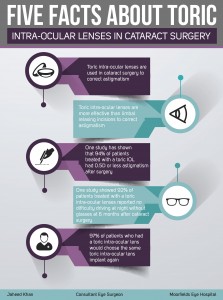 What are the uses of Toric lenses?
What are the advantages of Toric vs. other treatments?
Toric intra-ocular lenses are more effective than limbal relaxing incisions to correct astigmatism.
Have these results been studied?
Yes! One study has shown that 94% of patients treated with Toric IOL had 0.5D or less astigmatism after surgery.
How will this affect my day-to-day life?
This treatment will positively affect every aspect of your daily life. For instance: One study showed 92% of patients treated with a Toric IOL reported no difficulty driving at night without glasses at 6 months after cataract surgery.
Do your previous patients recommend this treatment?
Yes! We have received very positive reactions from our patients. Overall, 97% of patients who had Toric inter-ocular lenses would choose the same treatment again.